"Being a mom will always come first," Jenna says, "but I always make sure to find a balance between making sure everything runs according to plan at work and taking care of my baby girl."
In addition to being a great mom and successful career woman, Jenna says she's also proud of working hard recently to lose 85 pounds … and counting.
She says she was slightly overweight when she was hired at RDS and, over the years, a sedentary job, pregnancy and motherhood made it even more challenging to lose weight. But she has found a weight-loss routine that works for her and is determined to hit her goal.
"My little girl is watching and I want to get there," she says.
She says Zogby and her co-workers at RDS have been extremely supportive of her efforts. But they still took some time out in July to celebrate Jenna's birthday with a cake!
Given her track record, we're confident Jenna will succeed with her weight-loss goal—and whatever she chooses to tackle next. Would you like to join the RDS team and work with amazing people like Jenna? Find out about our job opportunities here.
It's Another Successful Wrap!
When you see our vehicles on the streets of New York City and nearby communities, we want you to think: "Wow! This company pays attention to every little detail, including the classy branding and cleanliness of its vehicles. Its services must be outstanding!"
That's right! Working with our friends at KickCharge Creative, we went through great pains several years ago to make sure our branding showcased us as the best in the business. Now, as our fleet grows, we make sure that every vehicle is painstakingly and professionally wrapped in our beautiful brand and lovingly cared for to maintain that wow-worthy look.
We thought you might enjoy these behind-the-scenes photos of another one of our vehicles getting "dressed up" before it hits the streets!
Have you seen our amazing vehicles around town? If you do, make sure to snap a photo, share it on social media and tag RDS!
Do you need our messenger or delivery services? You can learn more here.
Our Team LOVES Helping Your Team!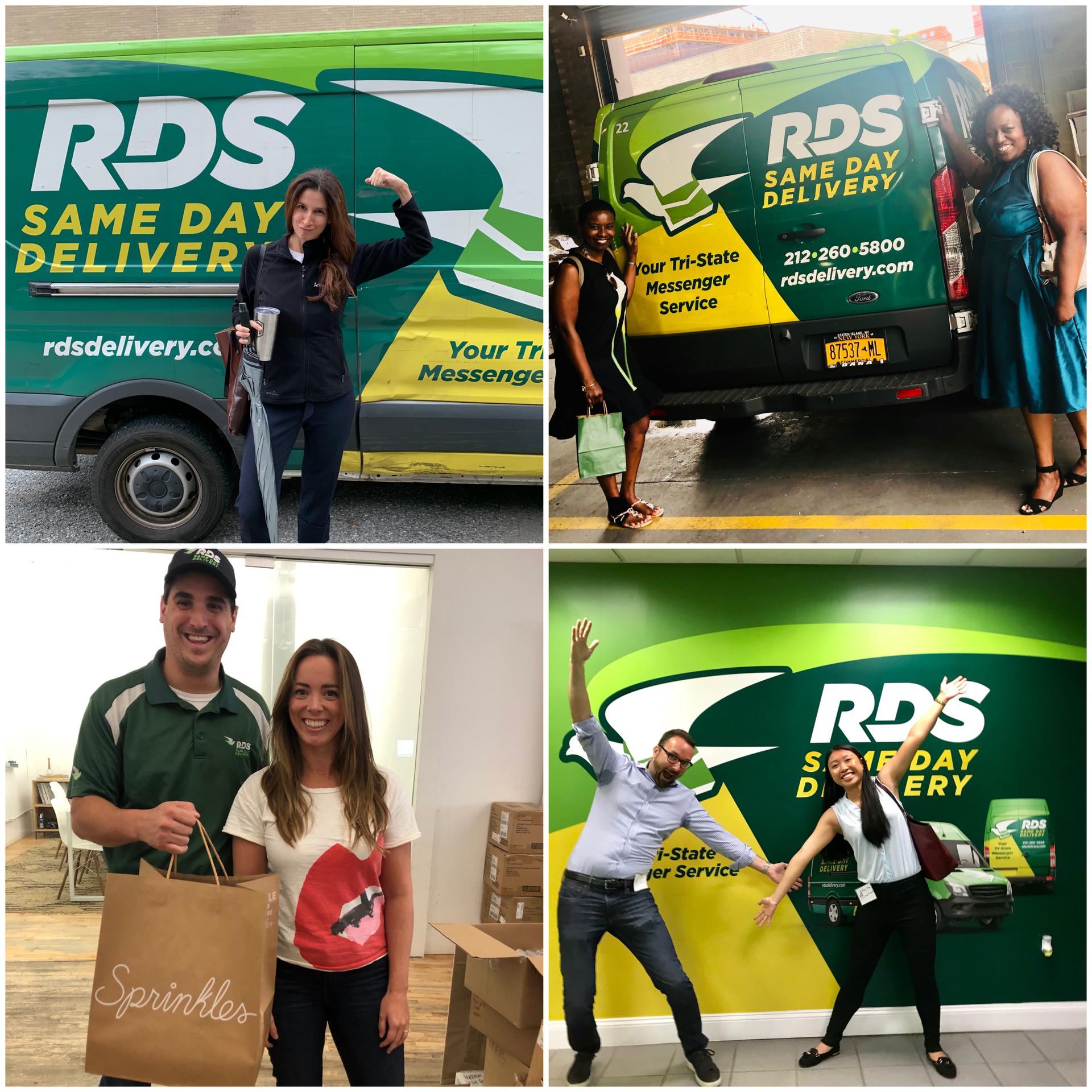 We enjoy providing you with behind-the-scenes glimpses of our amazing team in action. It's one of the best ways for us to show you that everything we do is part of a coordinated team effort designed with you—our outstanding customers—in mind.
Can you see it on our faces? We love playing a key role in keeping you and your business moving in the right direction.
Do you rely on us for your messenger or delivery services? Make sure to check out our storage and retrieval services, too! We're also the team you should trust for your facilities management needs and more!